NEW Book: The Craft of Public Speaking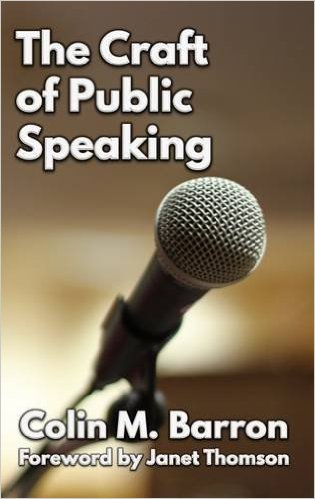 Dr Colin M. Barron's new book is now available on Amazon.
I am very pleased to announce Dr. Colin Barron's new book. Dr. Barron has been a long time TFT VT practitioner and an active participant on our community. He has graciously share much knowledge over the years. And as he is, himself, an excellent and very witty speaker, he is certainly qualified to write this book. You can get your copy here.
Colin has been using TFT since early in 2000, and in November 2001 he became the first British person to qualify as a Voice Technology TFT practitioner. Colin has also gained 40 years of experience in public speaking, and did some training with the John May School of Public Speaking in London in January 1990.
Public speaking is one of the most important skills in personal and professional life. Yet too often this key ability is neglected, leading to presentations which are dull, uninspired and poorly delivered.
The Craft of Public Speaking examines some of the crucial aptitudes which are fundamental to delivering an effective presentation for listeners. These include preparation, structure and rehearsal, in addition to some of the more overlooked aspects of oration such as the use of visual aids, adding humour, and dressing for success. As well as discussing how to deliver effective live addresses in public settings, the book also covers interview techniques for TV and radio along with how to organise seminars and conferences.
Dr Colin M. Barron has delivered hundreds of lectures and presentations to audiences during a long career, giving speeches on a wide variety of different subjects over many years. In The Craft of Public Speaking, he shares the essential knowledge that you will need to become a truly successful public speaker.
/wp-content/uploads/2019/01/TFTHeaderLogo.png
0
0
Joanne Callahan
/wp-content/uploads/2019/01/TFTHeaderLogo.png
Joanne Callahan
2016-08-11 07:11:51
2016-08-11 07:11:51
NEW Book: The Craft of Public Speaking