The TFT Foundation's documentary From Trauma to Peace is complete!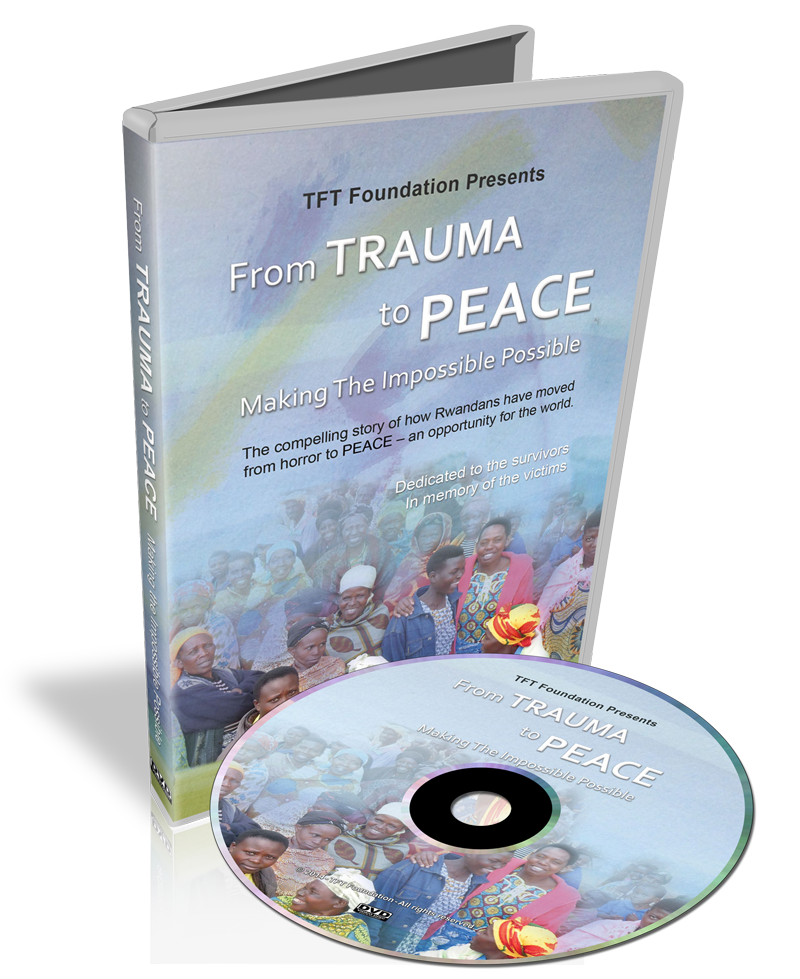 Watch and hear story after story told of the horrors suffered by  Rwandans and the transformative healing that has taken place in their lives since learning TFT. The Rwandans have forgiven.   And, through the healing power of TFT, they have not only forgiven, they have transformed themselves from survivors to happy, productive and loving people.
The documentary shares the work the TFT Foundation has done in Rwanda since 2006. The research that has been completed, the trainings of TFT leaders, and the humanitarian relief are all compelling. The stories of each life, family and community that can now smile, laugh, love one another and be productive again will melt your hearts as it has ours. It deeply conveys the great need for trauma relief in our world. Reg. Price $24.95
One of our TFT Foundation board members, Mary Cowley, wrote a wonderful description for the documentary.
Peace IS within our grasp. It is at the tip of our fingers…literally. The upcoming documentary "From Trauma to Peace" will shock you in how quickly and easily people can be relieved of the devastating effects of trauma through the safe and effective "tapping" technique of Thought Field Therapy (TFT). AND how the impact of that emotional freedom not only brings peace of mind to the individual, but facilitates peace within and among communities.
A mayor in the Northern Province of Rwanda commented: "People who I have never seen smile, are smiling. People who were not productive are now productive." Our documentarian just returned from Rwanda, filming people's stories about how TFT has changed their lives. He said "…each story included a statement like, 'I never smiled in my life until I was treated with TFT'."
People CAN break the cycle of violence and feel hope and joy again. Please help us in our efforts to bring peace to our world, one person–and one community–at a time, through TFT. This film will help create the awareness that entire traumatized communities can help themselves go from trauma to peace.
Please consider a donation to help us bring this documentary to the world.
/wp-content/uploads/2019/01/TFTHeaderLogo.png
0
0
Joanne Callahan
/wp-content/uploads/2019/01/TFTHeaderLogo.png
Joanne Callahan
2014-10-15 18:42:08
2014-10-15 18:42:08
The TFT Foundation's documentary From Trauma to Peace is complete!