Tapping For A Healthy, Happy Family

As summer winds down and we approach the end of August, many of us turn our thoughts to getting ready for "back to school" and the stresses, both emotional and financial that accompany it. TFT can help us face these challenges with calm confidence and focus.
We will follow along the same theme, tapping for our family, which focused on the joy of birth and the heart break of infertility. We shared some of the ways TFT has been helpful in facilitating pregnancy and supporting a healthy baby. We even shared some pictures of a couple of our beautiful "TFT" babies.
But, in order to remain a "Happy, Healthy Family", we also need to learn ways to safely and quickly address the stresses of a growing and aging family. Back to school and the challenges that come with that phase of life can take it's toll on the entire family. We will also touch on this in our upcoming teleclass, Tapping for a Healthy, Happy Family — From the Very Beginning.
As millions are focused on the back to school processes, parents, teachers and our children are experiencing the stress and anxiety of beginning another school year.
A new school year, is a time of excitement and anticipation, but it can also be very stressful.
More than 55 million American students will enroll in elementary through high schools this fall, according to the U.S. National Center for Education Statistics.
Of those 55 million, 2.5 to 5 percent of them will have separation anxiety at the school doors, says Dr. Karyn Horowitz of Bradley Hospital in Rhode Island, which deals with psychiatric problems among children. TFT has successfully relieved separation anxiety for over three decades, without the risk of medications.
In some cases, strong anxiety may interfere with a child's happiness or learning. About one in eight children suffer from an anxiety disorder, according to the Anxiety Disorders Association of America. TFT is also successful with the more complex anxiety disorders.
The entire family is affected by the fears and anxiety of going back to school, just a few of which are:
fear for their safety from violence and/or bullying
fear of exposure to negative influences of peers, social media, etc.
performance anxiety both socially and academically
anxiety about "friends" and being accepted
Research suggests that chronically stressed children, stressed from all of these fears, do pay a heavy price. They are at a greater risk of cognitive damage, because their brains are not yet fully developed. We can help prevent this damage by daily tapping away stress as it occurs.
A host of statistics suggest that American children are experiencing stress at new levels and for more reasons (as suggested above): suicides among adolescents have quadrupled since the 1950s; only 36 percent of 7th graders agreed with the statement "I am happy with my life;" and in the past decade, using pharmaceuticals to treat emotional disorders has shot up 68 percent for girls, 30 percent for boys. TFT, tapping, offers a safe, non-invasive way to support emotional health.
But newer studies suggest it's not only extreme kinds of stress that can affect kids' ability to learn and think. In 2009, Virginia Polytechnic Institute and State University scientists found that kids exposed to "household chaos" had lower IQ and more conduct problems.
We've been providing our free Stress Guide on our web site, www.RogerCallahan.com, for years, with excellent success. This guide is not just for adults, it is so very helpful for our children, and our "household chaos". We could do this with them daily, easing the stresses for the family. Tap along with them.
The stress tapping sequence helps with any kind of fears, stomach upsets related to conflict and worry, nervousness, test anxiety, performance and public speaking fears, and so much more. All of our children should have access to this simple tool.
The collarbone breathing helps with reading, dyslexic tendencies, coordination and just overall calming.
The correction for psychological reversal has been proven (R.Blaich, 1988) to help human performance improving reading speed and comprehension 45%… What a tool to help with studies and learning!
Some of TFT's other simple tapping sequences can help them with their anger, embarrassment, shame, and other limiting emotions they experience during their school day. We will cover these in our teleclass.
Bullying is one of the most difficult stresses we face as families with school age children. It is difficult on the entire family, the teachers, and affects not only their ability to learn but their safety as well. Bullying not only takes place on the school grounds but in cyber space too. Just take a quick look at the statistics to realize the magnitude of the problem.
Recent Statistics from Center for Disease Control state:
3.2 million students in 6th-10th grade say they are a victim of bullying each day.
Playground school bullying statistics show that every 7 minutes a child is bullied. Adult intervene 4 percent of the time, peers intervene 11 percent of the time, while there is no intervention 85 percent of the time.
77 percent of kids are bullied mentally, verbally and physically.
Only 10 percent of kids tell their parents that they have been bullied.
Each day 160,000 students miss school for fear of being bullied.
33 percent of students report being bullied at least once a month.
6 out of 10 students say they witness someone being bullied daily.
Victoria Yancey, PhD, specializes in this area of help and has contributed to our news e-zine to help us understand it and how we can help our families. We will share her article with you along with another heartwarming story about overcoming infertility and beginning a family.
Cyber Bullying and Low Self-Esteem: A Social Nightmare
By Dr. Victoria Yancey, TFT-DX, TFT-ADV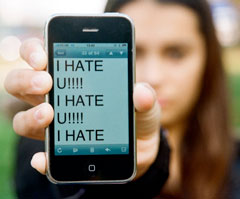 Young people around the globe are taking their own lives because of cyber bullying. Teen suicides have occurred within the past ten years in Missouri, Florida, New York, Vermont, Massachusetts, Canada, United Kingdom, Italy and numerous other cities and towns.
Cyber bullying has created a social nightmare and has caused far too many teens to hang themselves, jump from bridges or find other ways to harm themselves.
The number of suicides continues to grow with the easy access to and the increasing number of social media sites available to teens.
Cyber bullying is using digital technology to harass, embarrass, threaten, torment, humiliate or to make another person feel uncomfortable or scared. A study was conducted in 2010 by Cyber bullying research. It involved approximately 2,000 randomly selected middle school students from school districts in the United States. The study revealed that of the students 20% reported seriously thinking about attempting suicide. Those figures include 19.7% females and 20.9% males. The results also showed that 19% reported actually attempting suicide with 17.9% females and 20.2% males. In addition, it is suggested that cyber bullying can cause emotional scarring, since it involves threats and humiliation.
Cyber bullying victims were almost twice as likely to have attempted suicide compared to youth who had not experienced cyber bullying.
Young people spend up to 7 hours a day on the internet communicating with others on social networking sites. Technology cultivates a fertile ground for bullying. The internet has allowed bullying to occur on a 24 hour basis. Schools are unable to monitor student activity on the internet while not in school. You no longer have to sit at a monitor to cyber bully. Cell phones, smart phones, tweets, texting and blogs are all places where cyber bullying can take place while walking, riding, home or away, at any time or anyplace.
The growing number of digital technology cites allows young people to hear, see pictures and read hateful and embarrassing words about themselves, friends and family members. Studies reveal that there is a correlation between cyber bullying and low self esteem. Those who experience cyber bullying as a perpetrator or a victim had significantly lower self-esteem than those who are not involved in bullying (Hinduja & Patchin). They suggest that schools should take this fact into consideration when developing prevention programs.
Thought Field Therapy is a comprehensive and effective tool to use with students who experience self-esteem issues. Thought Field Therapy has been successfully used with the children who survived the pain of genocide in Rwanda and those who suffer bullying in the United States. This non-evasive, self-help technique should continue to be considered by schools, mental health professionals, parents and students themselves world-wide to reduce and eliminate negative thoughts and increase self-esteem and motivation.
Read more about TFT and bullying:
Callahan, R. and Callahan, J. (2011). Tapping the bodies energy pathways. Callahan Techniques

Cowley, M. (2009). TFT helps suicidal young man. http://tfttraumarelief.wordpress.com/2009/07/09/tft-helps-suicidal-man/

Hinduja, S. & Patchin, J. W. (2010). Bullying, Cyberbullying, and Suicide. Archives of Suicide Research, 14(3), 206-221.

TFT Trauma Relief – Overcome Trauma With Thought Field Therapy®http://tfttraumarelief.wordpress.com/category/trauma/suicide/

Yancey, V. (2012). Thought Field Therapy a solution for bullying. http://www.examiner.com/article/thought-field-therapy-a-solution-for-bullying
Yancey, V. (2009). The use of thought field therapy in educational settings. Germany: Verlag Press
Dr. Victoria Yancey, TFT-DX, TFT-ADV, is a therapist and an educator. She is known as the Guardian Angel of Hope for the children and families of the city of Philadelphia. She is Contributing Faculty at Walden University and Certified Advanced Facilitator at University of Phoenix.
/wp-content/uploads/2019/01/TFTHeaderLogo.png
0
0
Joanne Callahan
/wp-content/uploads/2019/01/TFTHeaderLogo.png
Joanne Callahan
2013-12-19 08:30:10
2013-12-19 08:30:10
Tapping For A Healthy, Happy Family