Dear TFT Community,
I am grateful to have the opportunity to share with you the last step in completing the TFT Foundation's PBS quality documentary "From Trauma to Peace". This work has been supported by four studies and the transformation of an entire region in Rwanda. A mayor in a Northern Provence of Rwanda commented that:
"People who I have never seen smile, are smiling. People who were not productive, are productive."
We were blessed to have an Emmy Award Winning Documentarian (Bhutan) believe in our ability to create PEACE with our sharing of TFT. With his help, we have just launched our Indiegogo campaign to complete the documentation of this transformation and support further treatment of trauma victims.
Please click the link here – http://www.indiegogo.com/trauma-to-peace – and see his video and read about how the healing of thousands, one person at a time, has transformed a whole community and its people, from the trauma of genocide to peace.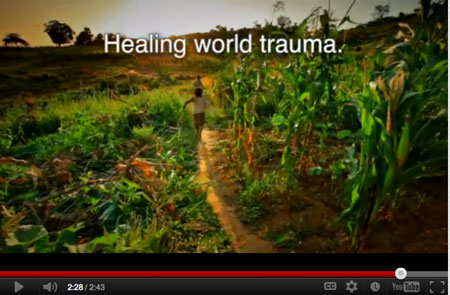 Thank you to all who have donated for these studies and humanitarian missions over the last 6 years. It is hard to imagine the many lives and hearts you have helped heal with your generosity.
As we head in to the holiday season, many of us have so much to be grateful for. Please help us complete this campaign and continue to treat thousands in Africa and other traumatized regions both at home and abroad. The TFT Foundation uses 93 cents of every dollar donated directly on its programs.
Activity on the campaign site is key to our success; visit the Indiegogo page, comment on what you see, tell others if you have had personal success with TFT, share the page with your lists, your family, your friends and your colleagues. The more people that visit, post and interact with the site, the higher our rankings and the greater awareness we can create for our trauma relief work and all of Energy Psychology.
Learn about the excellent Perks available for participating. Meet our documentary team.
Remember—it is activity that makes the campaign successful.
Please visit the site – http://www.indiegogo.com/trauma-to-peace – share it with everyone you know and help us move closer to PEACE amidst a chaotic and traumatized world.
Thank you for joining our campaign,
Joanne
Joanne Callahan, MBA
President, TFT Foundation

Listen to a recent KAOI Radio show in Hawaii, where Joanne Callahan, Bob Stone and Cindy Paulos discuss TFT and trauma relief:
[gplayer href="http:///www.rogercallahan.com/pdf/KAOI-Radio-TFT.mp3″ ] KAOI Radio – Rwanda Trauma Relief [/gplayer]
/wp-content/uploads/2019/01/TFTHeaderLogo.png
0
0
Joanne Callahan
/wp-content/uploads/2019/01/TFTHeaderLogo.png
Joanne Callahan
2013-01-17 14:55:19
2013-01-17 14:55:19
Help Fund TFT Foundation's PBS-quality documentary "From Trauma to Peace"