Since we launched our new Well-Being Retreats, many have been asking me, "What can I expect at a Well-Being retreat?"  So, at the suggestion of one of the attendees, and with the help of our recent attendees, I will share a few highlights from this recent life-changing week.
Each day contains a bit of exercise, nature, peace, good food, training and treatment with TFT and the use of the latest technologies to assess our current state of health.
We began our day with a walk through the beautiful Virginia woods, with spring all around us, flowers, deer, and birds singing.  When we arrived at the Meditation Environment we all set our personal intentions for healing and began our healing circle meditation with specific vibrational technology to facilitate our health and well-being.  Immediately following our meditation, spent a brief time, using TFT to balance our individual and group emotions and energy.  By then we all were ready for our healthy breakfast.

Following breakfast, our mornings were spent in group training and practice sessions.  Following these educational sessions, everyone was off to their individual protocols.  These included assessments such as a healing CoRe Inergetix session or the opportunity to have a brain map.  Others received a Neurofield balancing treatment for their brain.  Crystal Light Therapy and Shiatsu massages were high on everyone's list as well.  I think the most repeated and loved experience for all was the indescribable Awakened Heart sessions.

Kathryn with Jim having a CoRe session |  Oana with Mona having a Neurofield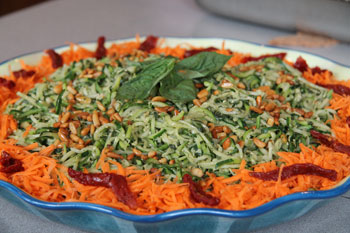 The food, whether one preferred Paleo, Vegan or in-between was wonderful—-and—-healthy.
After lunch, we again had a group session then individual TFT sessions and other protocols.  Our afternoons ended with Yoga or just chilling out.
After our evening meal we had some presentations by experts in the technologies we were using or further individual work.  We ended our evenings with a meditation and another walk through the woods.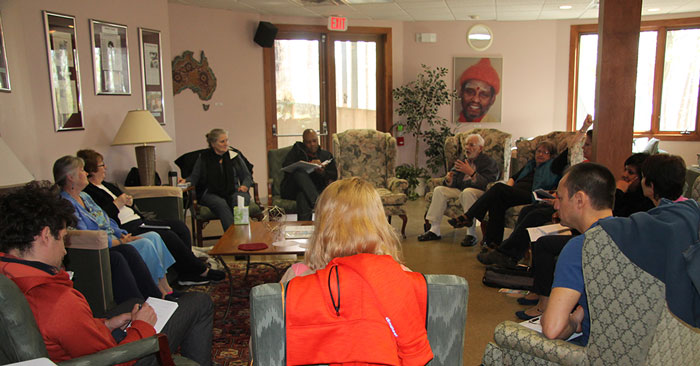 The small group size and intimate setting allows us to focus on the needs of those attending and to customize their schedule during the week, based on their needs.
The other question I am often asked is, "What kinds of things can be helped at the retreat?"
Each retreat is customized to the needs of the individuals participating.  For example, this last retreat, we worked on grief and loss, back pain, weight loss, life overwhelm, finding and living our passion, business success, spiritual growth, releasing fear and anxiety, and healing past trauma.
It was an amazing, fun and healing week at the Synchronicity Foundation Sanctuary. We shared tears, joy and new found friendships.  Everyone left with a new perspective, more inner peace and some tools to continue their healing journey.
I believe we have found the perfect blend of technologies, environment and healing tools to support TFT in helping us to reach our optimal health and well-being.
Click here for details on how you can join us for our next one in September.
0
0
Joanne Callahan
/wp-content/uploads/2019/01/TFTHeaderLogo.png
Joanne Callahan
2016-04-24 09:16:05
2016-04-24 09:16:05
An Inside Look at our TFT Well-Being Retreat